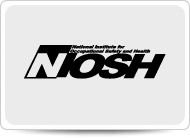 N95 disposable particulate respirators are approved with filtration 95% effective against particulate aerosols free of oils. Conforms to NIOSH 42 CFR Part 84 standard as N95 class.
Recommended applications : textile industry, craft work, iron and steel industry, mining, underground civil engineering and woodworking, hospital, laboratory, and disease control ...etc.
N95 respirators can provide protection against particulate aerosols free of oils containing the following materials such as : calcium carbonate, china clay, cement, cellulose, sulfur, cotton, flour, carbon, ferrous metals, hard wood, coal, iron ore, aluminum, silicon, bacteria and mycobacterium tuberculosis (T.B.).