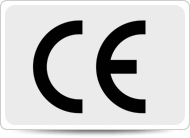 FFP3 NR disposable particulate respirators are approved for use against solid and liquid aerosols according to EN 149:2001+A1:2009. They are suitable for protection against high toxicity harmful materials in concentrations up to 50xOEL or 20xWEL.
Recommended applications: textile industry, craft work, iron and steel industry, mining, underground civil engineering, woodworking, welding work, cutting and casting of metals, hospital, laboratory and disease control, pharmaceutical industry, disposal of toxic waste, manufacture of batteries (Ni-Cad) ...etc.
FFP3 NR respirators can provide protection against solid and liquid aerosols and smoke containing the following materials such as : calcium carbonate, china clay, cement, cellulose, sulfur, cotton, flour, carbon, ferrous metals, hardwood, silicon, plastic, vegetable oils and mineral oils, copper, aluminum, bacteria, fungi and mycobacterium tuberculosis (T.B.), chromium, manganese, nickel, platinum, strychnine, metal dust and smoke, viruses and enzymes.
Our EN 149:2001+A1:2009 FFP3 NR respirators have been tested and meet the requirements of the 120 mg loading test specified in EN143:2000 A1.